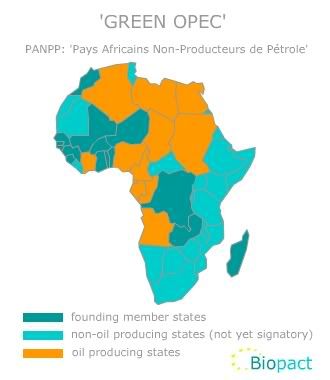 African media keep focusing on the creation of the biofuels association dubbed "Pays Africains Non-Producteurs de Pétrole" (PANPP), and so more details are emerging even though no official documents have been put online yet.
We found that 25 countries participated at the energy conference in Dakar, which was endorsed by the
African Union
. Of those countries, 15 signed the organisation's founding treaty (see map). Some of those are amongst the poorest countries in the world, which is why we add their ranking on the
Human Development Index
. They are:
Bénin (HDI: 162)


Burkina Faso

(HDI: 175)


The Democratic Republic of the Congo

(HDI: 167)


Gambia

(HDI: 155)


Ghana

(HDI: 138)


Guinée

(HDI: 156)


Guinea-Bissau

(HDI: 172)


Madagascar

(HDI: 146)


Mali

(HDI: 174)


Morocco

(HDI: 124)


Niger

(HDI: 177)


Sénégal

(HDI: 157)


Sierra Leone

(HDI: 176)


Togo

(HDI: 143)


Zambia

(HDI: 166)

This leaves 23 non-oil producing countries who have not signed up yet. The countries who did, have a combined population of 226 million [see UN
Population statistics database
for demographic projections], and an
arable
land base of 378.8 million hectares, of which they currently use 42.9 million ha (slightly more than 11%) [there are great regional differences here; see the FAO's
Terrastat database
for more information on land resources]. This arable landbase compares to Europe's (384.2 million ha, of which it uses 213.7 million ha).
The PANPP's seat is in Dakar, and the (rotating) presidency is observed by Sénégal during the first year. Several concrete urgency recommendations have already been announced. They include:
the creation of a mechanism of sharing and relieving the financial burden of high energy prices, through a solidarity system monitored by major financial institutions

the creation of a stabilization fund to relieve the pressure of high oil prices on ongoing development projects and policies (the budgets for social and poverty alleviation policies in those countries are hit most under high energy prices, which means the poorest of the poor suffer first)

the creation of institutional, organisational and financial instruments to promote the large-scale introduction of biofuel production in the entire continent, without further delay

the creation of a mechanism of solidarity between oil producing African countries (who are reaping tremendous benefits with high oil prices), and the non-producing African countries; concretely, oil producing countries will be asked to invest in biofuels in non-oil producing countries
The 'Green OPEC's next meeting will be held in september of this year, in Morocco, at a ministerial level. At this meeting, more countries are expected to adopt the statutes that in the meantime will have been drafted. The meeting is preceded by the formation of expert groups who will devise strategies aimed at implementing the recommendations formulated at the founding conference.
More information
(with mention of more concrete biofuels projects already on the drawing table):
[Entry ends here.]
ethanol :: biodiesel :: biobutanol :: biomass :: bioenergy :: biofuels :: energy :: sustainability :: Africa ::