Quicknote ethanol potential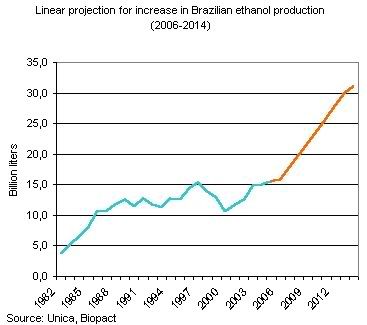 Brazil could nearly double its sugar cane-based ethanol production to 31 billion litres by 2014 by planting more cane and using new technology, the President of
Sao Paulo's Cane Agroindustry Union
said yesterday at a conference in Rio de Janeiro. Brazil is the world's biggest ethanol exporter and its production will be an essential component of Europe's biofuels directive targets, although only 15% of its output is currently exported.
US$10 billion in investment is planned for 92 new cane mills in Brazil, and ethanol production could be doubled if only about two-thirds of these investment plans come to fruition.
At present some 5.5 million hectares in Brazil are planted with sugar cane, compared with a total crop area of 60 million ha and 300 million ha of livestock pasture. A further 100m ha could be planted with cane, primarily on pasture land, without de-forestation. Increases in ethanol yields per ha are expected from new cane varieties and new processing technology.
Brazil's ethanol exports to the US have risen sharply over the past three months; despite a 54 cents-per-gallon import tariff, Brazilian ethanol is said to be about half the price of the US's domestically-produced corn-derived product.
[Entry ends here.]
ethanol :: biodiesel :: biobutanol :: biomass :: bioenergy :: biofuels :: energy :: sustainability :: Brazil ::