Time for our notes on biofuels from the French speaking world. Please don't forget to check our previous notes from the hispanic and the lusophone world.
BENIN
. We start in West-Africa, where the World Bank is implementing a bioenergy scheme, in coordination with the Beninese government, that will bring energy self-sufficiency to poor rural villages. The programme starts from converting
local biomass residues into densified biopellets
that can be used in small co-generation facilities. This ensures that existing pressures on forests are diminished and that
households no longer experience the damaging effects of indoor smoke pollution
when cooking and heating. Indoor smoke pollution kills an estimated 2 million people, mostly women, each year. June, 28
Le Matinal
.
FRANCE
. The French government has formally installed the long-awaited "Flex fuel 2010" action group, symbolically headed by former F1-pilot Alain Prost. The working group unites the automotive sector, the petroleum sector, the agriculture sector, consumer associations and government administrations.
The policy group's aim is
to turn France into an ethanol nation by 2010, with a crash program
that will have to create breakthroughs in all sectors: the car manufacturers will be supported to have a line of flex-fuel vehicles ready by 2010, the agro-industrial sector will be backed with R&D and concrete investments into production facilities, the petroleum sector will be helped to devise distribution and transmix agreements, and the government will prepare financial regulations, technical norms and agricultural policies on the EU level.
France's
government was the first to take 'Peak Oil' seriously
, when it published a report projecting the date for that potentially catastrophic 'event' to be around 2014, which is very soon. It is now working towards a radical energy transition, using its large bioenergy potential. June 7,
Libération
.
SWITZERLAND
. The Swiss gas industry has signed a Biogas Convention and has created a fund, which will result in doubling the
injection of biogas into the pipeline network
of the country. Gas companies who inject more biogas into the network than the standing average, get a bonus from the fund. The convention states that at least 10% of all gas used in the country must come from biomass.
Biogas is a renewable and CO2 neutral gas obtained from the methanisation of biomass residues and comparable to ordinary natural gas. Purified, it can be injected into the existing gas infrastructure.
Switzerland is one of the leading consumers of biogas. In 2005, it used 11.6 GWh of biogas and 19.7GWh of natural gas, which comes down to a
37.5% share for biogas
. This year, new biogas installations are coming online fast, some of them aimed at fuelling public fleets (that used to operate on CNG). June 29,
Presseportal
.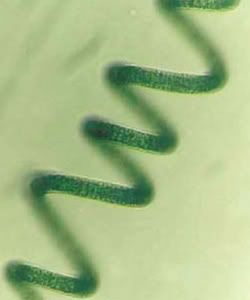 FRANCE
. The Franco-German company that won last year's Energy Globe Award for its technology for mixing biogas into natural gas networks, Schmack Biogas AG, has developed a process for the
purification of biogas using micro-algae
. The pilot project is supported by state funds and runs until 2008. It uses a sweet water algae,
Spirulina platensis
, which scrubs the gas obtained by dry fermentation, and removes the CO2 and other impurities that have corrosive effects on infrastructures. The algae need CO2 to grow. And the more CO2 they remove from the biogas, the richer its methane content and the higher its energy content. While the algae do their work, they themselves grow into a bioenergy feedstock that can later be recycled to produce more biogas or biofuels. June 1,
Futura Sciences
.
ILE MAURICE
. The island state of Mauritius is seeing a biodiesel hype with three investments having received the green light to start producing the fuel this year. An Indian company is opting for the oil palm as its main feedstock. Other initiatives focus on Jatropha curcas and Pongamia. A 20,000 ha jatropha plantation is currently being established.
For island states like Mauritius it makes sense to invest in domestically produced biofuels, since their petroleum import bills are exceptionally high due to the fact that they cannot use the same leverage as big consumers when buying on the open market, nor can they invest in their own petroleum infrastructure (because of scale disadvantages).
It is estimated that the new biofuel projects will save the state an impressive 450 million Mauritian rupees (€ 11.5 million) per year, capable of providing
30% of Mauritius' liquid fuel needs
. On average, the locally produced biodiesel will be competitive when a barrel of oil costs more than US$ 43. July 1,
L'Express
.
FRANCE
. Agritel and Agrisalon offer an interesting op-ed piece on the long-term market perspective for biofuels on a global scale. The piece is written from the perspective of French agriculture and its place in Europe. Its main conclusions, which are logical and interesting for us at the BioPact: after a
first phase of heavy investments and soaring domestic production
, a stagnation phase will set in because Europe will have used up its land resources and will have opened up its market to foreign bioenergy producers. This
second phase will see imports of biofuel feedstocks from the South
, most notably the tropical belt of countries made up by Brazil, Central Africa and South Eas Asia.
Check out this piece, with an in-depth discussion about possible WTO agreements on green energy, and scenario's for France's agricultural policy development within the EU as we enter the era of bioenergy. June 15,
Agrisalon
.
FRENCH CARIBBEAN & GUYANA
. eCaraibes offers an interesting overview of the potential for biofuels production in the Caribbean. This region is
exempt from import tarriffs when it wants to export green energy to the EU
, under the Union's APC-provision. Both President Chirac and the EU's Development Commissioner, Louis Michel, have pointed out that the EU welcomes biofuels produced in the region, and that they offer a route for development now that energy prices are so high. The Caribbean have a long tradition of sugar production, that died a few years ago because of low world prices, but that can now be revived in the context of the global ethanol market.
The article further offers an interesting overview of investments in bioenergy and biofuels, made by European and Brazilian companies. s.d. June,
eCaraibes
.
FRANCE
. Le Figaro expands on the recent
bioenergy agreement signed between France and Brasil
, about which we reported earlier. It focuses on the collaboration of both countries on organising a biofuel technology transfer to the poorest African countries and to the Caribbean. May 26,
Le Figaro
.
ILE MAURICE
. Total, the oil company, and Alcodis, a local ethanol producer, are starting to bring ethanol on the market in this small island state. The faculty of engineering of the Université de Maurice will be monitoring the performance of the cars that will be using the E10.
June 1, AllAfrica
.
CANADA
. Farmers' associations in Québec are satisfied to see the prices for their grains rise on the ethanol boom, but forestry associations carefully urge the local government to assess medium term options and devise a strategy to use other feedstocks than corn. Québec has a large forestry base that could serve as a base for bioenergy production, with
lignocellulosic biomass as a feedstock
for second generation biofuels.
La Presse Affaires
.
[entry ends here.]