Quicknote biofuel technology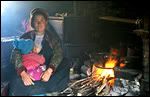 It's not just high-tech tools and electronic gadgets, but also everyday kitchen appliances that catch the fancy of engineering students. And when it comes to biofuels, the news doesn't always have to be about complex genetic engineering, novel enzymes and biochemistry.
Millions of people in the developing world are served better by appropriate, simple technologies that solve very concrete problems. Such as indoor smoke pollution, the killer in the kitchen which,
according to the World Health Organisaiton
, kills an estimated two million women and children each year. Nearly half of the world continues to cook with solid fuels such as dung, wood, agricultural residues and coal. Smoke from burning these fuels gives off a poisonous cocktail of particles and chemicals that bypass the body's defences and more than doubles the risk of respiratory illnesses such as bronchitis and pneumonia.
Now students at the Institute of Technology in Bangalore (India), have developed an efficient biofuel pressure cooking stove that eliminates this problem. It can be operated on different blends of biofuels like pongamia oil and jatropha oil, or even fossil fuels like kerosene. The vaporiser, burner head and tank have been designed in keeping with the chemical, physical and combustion properties of those biofuels.
For the benefit of rural users, a biogas burner has also been installed. The principle of the stove is simple. Pressure is induced into the tank, due to which fuel flows into the oil line. The fuel flux is regulated with a valve in the oil line. The vapouriser which is connected to the oil line, causes the cracking of biofuel molecules. Hence, recombination products deposited on the inner wall of the vapouriser, can be opened and cleaned with a brush. The nozzle is located at the end of the vapouriser.
After leaving the nozzle, the stream of vapourised plant oil mixes with ambient air. The fuel-air mixture is gathered in the gas collection tube of the burner head. While leaving the burning head, the mixture incinerates and burns. To aid incineration, an asbestos piece is ignited beneath the vapouriser.
Times of India
.