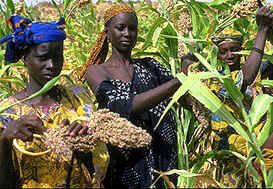 In light of the energy summit at the G8 meeting in St-Petersburgh, the BBC's Have Your Say focuses on
African energy security and on the potential of biofuels
:
Imagine using sugar to make electricity, the sun to heat bathwater and maize to fuel cars. These alternative forms of energy may be the future of power supply.

With the price of traditional forms of energy like oil skyrocketing and the availability of electricity in some parts of Africa scarce due to drought, some analysts say it's time to start using more of these new forms of power.

Next week the world's richest countries, the G8 group, meet to discuss how to secure their future energy needs in the light of political instability in many oil producing countries.

Is Africa doing enough to secure its future energy needs? What are you doing to save energy? Are alternatives a reliable way of powering the continent long-term and will they be cheaper? And what about new oil discoveries on the continent - are they enough to secure Africa's energy future?

Feel free to join this interesting debate and express your views and experiences. Or read some of the comments below.
ethanol :: biodiesel :: biobutanol :: biomass :: bioenergy :: biofuels :: energy :: sustainability :: Africa ::

We put some of the reactions in here, for the archives:

Added: Thursday, 13 July, 2006, 15:33 GMT 16:33 UK

Africa is a continent of contradiction. It is the richest in resources but poorest in what people have. Africa cannot make sugar or maize into energy as long as it has not enough to feed the hungry. Africa can try to rise more money of the Uranium that will be needed morearound the world. Maybe the only viable alternative is hydropower and solar power in minor amounts. First Africa needs to get leaders who care for their own people. First then the existing riches will come to common benefit.

[microdoc], Helsinki, Finland

Recommended by 1 person


Added: Thursday, 13 July, 2006, 15:16 GMT 16:16 UK

Africa would not be experincing power shortages if it's leaders and their cronies were not sucking up all the funds channelled to maintain and develop the energy infrastructure. The "new breed of African leaders," especially have no sense of tommorow in them and can never think of their respective countries after their reigns of terror ends. Take Uganda for instance, corruption is so much embroilled around the presidency that to do anything in Uganda, one has to be connected to the Museveni's.

James Towny, Durham

Recommended by 1 person



Added: Thursday, 13 July, 2006, 15:11 GMT 16:11 UK

ha ha ha i was in nigeria two and half years ago what i saw light off and on sometime the whole weeks we stay in darkness then i ask my friends why cant they be steady power surply in nigeria? do u know what he told me? how can it be? the the president is importing genarator from china, so if they are steady power suply who will buy the genarator?

john iwuji, zurich switzerland

Recommended by 0 people



Added: Thursday, 13 July, 2006, 14:25 GMT 15:25 UK

There is urgent need for the world, Africa in particular to harness the abundant gift of suishine for energy. Ordinary people not only govnments should be encouraged to take advantage of this blessing.Growing maize and sugar cane for energy is desirable but due to the multi use of these crops especially for food it may not be easy. However improved technology may help. Please continue to promote and educate us on these ideas.We all know that fosil fuel is poisonous and it is wasting asset. Tnank

JOYCE WEEKES, HARTFORD CONNECTICUT

Recommended by 0 people



Added: Thursday, 13 July, 2006, 14:25 GMT 15:25 UK

I spent 5 years in East Africa, two of those tying to interest Miniters in 'energy from waste'; reducing oil imports and giving rubbish a value, making waste collection viable.The concept(tried & proven)was attractive, but with no 'upfront' money we never succeeded. Part of the problem was pressure from the manufactures of oil powered generating equipment who could woo Ministers with other promises. Africa could be the centre of excellence for alternative energy -especially Solar power.

GRAHAM SMITH, RICHMOND, United Kingdom

Recommended by 2 people



Added: Thursday, 13 July, 2006, 12:57 GMT 13:57 UK

Obviously not, given the inept and corrupt leadership that the present leaders of Nigeria has shown in managing the Niger delta uprising.
If this crisis persists there will be major energy crises in Africa and beyond. Given again the fact that Africa lacks the technological know how for other sources of energy.

Henry Ohakwe, Freetown

Recommended by 0 people



Added: Thursday, 13 July, 2006, 12:30 GMT 13:30 UK

Africa is not only secure of its energy needs, but also can be a source for others. Look at the Hydroelectric potential of Ethiopia which is only utilised 2% to date. This power potenial is also available in most African Countries. What lacks in Africa is Democracy and that allow its citizens to work and use its resources. Your have your say topic should always concetrate on how to foster democracy in Africa which is lacking.

Aba Koster, Dubai

Recommended by 1 person



Added: Thursday, 13 July, 2006, 11:41 GMT 12:41 UK

Is Africa's energy supply secured?
I think so! Africa's energy resources are mostly misused. Africa is very rich, exploited energy yet is less than the un-exploited! it sounds fun? No! the water-falls to be exploited are still many, the new techology is still to reach Africa, Africans only have to be hard working and confident, Africa generates more than 15% of all resources of energy the world uses, so should not be any reason that Africa's energy be not secured.

Arnaud Emmanuel Ntirenganya, bamenda cameroon

Recommended by 0 people



Added: Thursday, 13 July, 2006, 11:00 GMT 12:00 UK

the avilability of the anergy sourse is the problem facing africa,it,s the man pawer and the sustainability that is needed for the full success of any the generating idealogy,the current shortage of pawer in nigeria and whole africa is privetization as many thinks it as a result of poor management and corruption,geting the write people to do the write things at the write time will solve our anergy problem,

majid oziaminu, lokoja

Recommended by 0 people



Added: Thursday, 13 July, 2006, 10:16 GMT 11:16 UK

Africa has abundant resources to power her into centuries ahead without any problem.
All we need is proper harnessing and latest trechnology to realize this dream.

Israel Ambe Ayongwa, Bamenda, Cameroon

Recommended by 2 people



Added: Thursday, 13 July, 2006, 09:58 GMT 10:58 UK

No, especially when viewed from the perspective that the so-called 'giant of Africa' (Nigeria) is still grappling with a paltry 3000 megawatts of electricity for an estimated population of over 120,000,000 people.
However, with a more purposeful and less-corruption free leadership, Africa can start dreaming of an Eldiorado.

Ashipa James Olashupo, Abuja, Nigeria

Recommended by 0 people



Added: Thursday, 13 July, 2006, 09:58 GMT 10:58 UK

I am DR Congolese,when some developed Western countries are struggling with energy crisis why not invest in hydro electricity in river Congo by implanting their heavy energy demanding industries there? this will definitely help employment for both local & foreign people! And the end of it,it will give that such a World balance in question of World energy distribution!

JOSE KIASEKA, MANCHESTER UK

Recommended by 0 people



Added: Thursday, 13 July, 2006, 08:18 GMT 09:18 UK

I made this proposal 2 years ago during a conference in Bonn on sustainable energy. The EU and western countries in general should provide quota- and duty-free imports of renewable energy from ALL African nations.The result will be that African farmers would have an alternative source of income and the EU countries would have cleaner and more reliable energy while helping to combat poverty at the same time.Farmers would have enough capital to invest in machines to boost farm production in Africa

Devine, Bad Krozingen

Recommended by 0 people



Added: Thursday, 13 July, 2006, 07:43 GMT 08:43 UK

Sorry for the mistakes because our linguage is portugese. In my view on the era of change Africa can not secure its future energy needs alone and some of the alternatives are not renovable sources of nature.The energy needs are increasing and the alternatives are needed to complement the tradictional sources, but I'm not sure that thy are a way of powering the continent long-term and they will be cheaper. We have to save energy for example, using more public trasports than the private vehicles.

Marcos Evaristo, Maputo, Mozambique

Recommended by 0 people



Added: Thursday, 13 July, 2006, 06:44 GMT 07:44 UK

If African leaders continue neglect their people with regard to health, education, social services, security etc., how do you think that an energy crisis will be handled by them? They'll have their (embezzled) money to draw on from the bank to buy generators/etc., fuel for their personal use and government funds will assure that their chauffer driven air conditioned limousines will continue to convey them around in luxury. Meanwhile, the rest of the African people just have to "get on with it."

Peter Duffield, Los Angeles, United States

Recommended by 3 people




Added: Thursday, 13 July, 2006, 02:51 GMT 03:51 UK

Please don't go there,We need food and water,school,hopitals.In my country the,the Gambia the only light/energy we know is the sun and moon.Electricity is a first class luxry,when the lights switch on,you can hear the cheers as if we have worn the world cup.But this is hardly a problem,people hardly have food to refregrate,Tvs to view or even houses to illuminate.Its amazing how people can accept as normal so much poverty.Bless them

Osman, kent

Recommended by 0 people



Added: Wednesday, 12 July, 2006, 20:56 GMT 21:56 UK

Akpan, Kent, UK/Nigeria

You did hit bullseye. Also; the economy is in big mess because they have stolen enough to last their family and friends 10 generations; unemployment is rife because they reserve the most plum jobs for their unqualified cronies; the hospitals are totally rundown because they fly out to top class hospitals in the west for ailments like headache; they can't handle energy issues sensibly because, put it midly, most are round peg in square a hole.

JOE C, Ontario

Recommended by 0 people



Added: Wednesday, 12 July, 2006, 20:30 GMT 21:30 UK

for most peope who are able and blessed enough to afford any form of energy its conservation is not issue to them so far as they can afford it and always pay for it. the issue of energy is quite pathetic in africa as most people see it more as luxury because they cannot afford the other neccessities of life; food, shelter and compulsory basic education.

Ibrahim Abubakar, Madina-Accra, Ghana

Recommended by 0 people



Added: Wednesday, 12 July, 2006, 18:38 GMT 19:38 UK

Africans are worried about other more pressing problems like hunger, communal strifes, and sit tight rulers. Power supply is a huge problem in Nigeria. Nothing meaningful has been done inspite of unending promises. We therefore have to contend with darkness, noise from generators, and unending exploitation by the government monopoly expected to supply power. Harnessing of other sources of power is not in our front burner yet.

Kingsley Ezenekwe, Lagos, Nigeria

Recommended by 0 people



Added: Wednesday, 12 July, 2006, 17:39 GMT 18:39 UK

Absolutely not. In this day and age when the United states is looking for an alternative to its dependency on gas and unstable nations who have supply them, Countries like Nigeria is doing nothing to preserve, venture into other sectors or explore its other mineral resources. Its leaders are clueless and invest in their private accounts rather than in technology, structural development etc. Dubai is a great example of a country that is making a difference

Maurice Iyalla, Houston

Recommended by 0 people



Added: Wednesday, 12 July, 2006, 16:35 GMT 17:35 UK

Africa needs to fiercely guard its newly found energy sources against 'hungry' and powerful nations, which are increasingly scrounging the world for additional supplies and competing for a declining, pool e.g. China which is keenly interested in Africa and also engage key stake holders like the world bank, ADB and IMF to fund the development of alternative sources of energy such as solar and wind power.

Howard, Kampala

Recommended by 0 people



Added: Wednesday, 12 July, 2006, 16:02 GMT 17:02 UK

Climate change will have a catastrophic effect on Africa if we keep using fossil fuels. Christian Aid calculates that every household in Africa could switch to clean renewable energy for less money than it would take to pay the region's oil bill for the next decade. Donors should stop funding damaging 'dirty' energy projects like oil extraction and support the development of renewables in Africa to provide power to rural areas that are off the grid - and likely to remain so for decades to come.

Katy Migiro, UK

Recommended by 0 people



Added: Wednesday, 12 July, 2006, 14:44 GMT 15:44 UK

we in Cameroon and certainly in all of Africa have enormous resources for energy that remain unexploited. Imsagine my country endowed with lots of water falls but except those with generators no persons people have uninterrupted power supply.
We are like a people dying of thirst in the middle of the sea.

Nshom Ernest, Mbingo, Cameroon

Recommended by 2 people



Added: Wednesday, 12 July, 2006, 14:03 GMT 15:03 UK

Africa's lagging in industrialization can be bestly associated with her limited energy needs. It must be ironic to know that we sell too much energy to the other continents that we should do. This will eventually culminate in a situation of excesive energy crisis in the continent. It's high time Africa start exploring other sources of energy if the intend to industrialize to the level where Europe or Asia find themselves.

Chi Primus, bamenda, cameroon

Recommended by 0 people



Added: Wednesday, 12 July, 2006, 12:47 GMT 13:47 UK

An energy strategy for Africa? What a stupid idea, when every African ruler has his own generator/s! And it is not only in the energy sector that this selfish attitude prevails. Schools and hospitals are deliberately neglected because their kids are invariably educated in the West. The roads are death traps because they travel around by air. Security is appalling because they all have well-armed bodyguards. Etc.

Akpan, Kent, UK/Nigeria

Recommended by 4 people



Added: Wednesday, 12 July, 2006, 12:31 GMT 13:31 UK

Energy in Africa is a serious problem largely due to poverty,insincerity of leaders and so on.

Even in countries that are blessed with natural resources especially oil have failed in this regard.

Energy will certainly be Africa's continuous headache even with a fertile land to cultivate sugar maize etc.

Justus, Ibadan, Nigeria

Recommended by 1 person



Added: Wednesday, 12 July, 2006, 11:41 GMT 12:41 UK

Working throughout Africa as a Building Economist for a Development Architect Quick and easy rules the market when it comes to design.

Energy conservation is key to the lifecycle cost of a building and with good design the initial budget is rarely increased in going green but, but then the building is cheaper to run and less affected by outages. On the other hand retrofitting is rarely viable.

Taking a step back much of Africa is denied housing to electrify.

Tim Hosking, Gaborone

Recommended by 0 people



Added: Wednesday, 12 July, 2006, 09:53 GMT 10:53 UK

Certainly Africa could secure its needs from oil; moreover, it can offer part of the international needs. The African resources are huge and not yet explored. Apparently we need investment in capital and know how.

The developed world can serve dual purposes when investing in Africa, to secure its energy needs and to help curb African poverty

Omer elfarouk Mirghani, Kenana

Recommended by 0 people



Added: Wednesday, 12 July, 2006, 09:17 GMT 10:17 UK

It doesn't make a senese when africa is unable to meet it's present energy needs and u are talking of the future about saving energy? Africa is very poor here. They say we lack all the money and technology to get this energy going so they called the super powers. all the super powers does is loot our resources to meet their own energy demands and give so very little in return so we keep calling for them. Africa is a charitable case period.

garland orhue ogiegor, edo nigeria

Recommended by 0 people



Added: Wednesday, 12 July, 2006, 02:40 GMT 03:40 UK

Africa is not ready for the pending energy crisis facing the world. In Ghana just like many other African nations, there are constant rolling blackouts on a daily basis. If we can't supply electricity to our citizens reliably, then how would we face the oil crisis.

Isaac Mensah, Woodbury, Minnesota, United States

Recommended by 0 people


Added: Tuesday, 11 July, 2006, 23:42 GMT 00:42 UK

YES.Africa's energy future is very very secure.Just this week Nigeria plans to electrify 200 villages using solar energy.Imagine that!If we can only tap the sun's energy,we will have it in abundance.But remember an estimated 15% of the world's oil/gas is in Africa.We have energy coming from waterfalls and dams and coals and ....I hope you get the point.Even Hugo Chavez in his speech at the last AU summit in Banjul talked of linking South American energy resources to Africa's.Just think of that!!

AMINU WOUBA, CAMEROON

Recommended by 0 people



Added: Tuesday, 11 July, 2006, 21:29 GMT 22:29 UK

Iam a ugandan and iam happy about the discovery of oil in my country.currently their is a big problem with electricity.businesses /industries have collapsed because of lack of electricity.loadshedding is on a daily basis.i do not think countries like uganda are doing enough about this probelm which obviously affects people's day to day life.not many can afford generators and the oil to run them is equally expensive.if the money from the sale of the oil is used to develop our infrastrusture .

Isabella, London

Recommended by 0 people



Added: Tuesday, 11 July, 2006, 19:41 GMT 20:41 UK

Regarding the answer to Africa's future enrgy solution, the answer lays to non depletable energy sources such hydrogen energy, solar energy or corn energy types that can be easily repleted. Also Africa should develop & inprove public transportation services such as trains & busses in order to maxmize energy conservation.

busho frank, portland oregon

Recommended by 0 people



Added: Tuesday, 11 July, 2006, 17:31 GMT 18:31 UK

Africa is a consummer drive community with little innovative incentives. The educational systems are built on colonial idiologies based on teaching people to serve in public services. Research-based science is absolutely absent. Thinking that Africa is actually spending time to design new and cheaper ways of fighting energy shortages makes me giggle as Africa has not even learnt to design a good agricultutal network to feed and enrich its own people! African leaders need to wake up!

Ernest Chi, Gothenburg/Sweden

Recommended by 0 people



Added: Tuesday, 11 July, 2006, 16:45 GMT 17:45 UK

I believe the West is not doing ITS part in the energy crisis. At least in Africa, they have coal, firewood and they are getting more solar things. In Uganda, we power share with Kenya and some other countries nearby. We get our power cut every second night from 7.30pm until about 3am. Is it annoying? Sometimes...especially when you're watching a movie or enjoying some music on the radio etc. Yet, in the West, they are totally 100% set on oil and electricity. Not the case for Africa!

Stephanie, Kampala Uganda

Recommended by 0 people



Added: Tuesday, 11 July, 2006, 15:14 GMT 16:14 UK

African governments are still struggling with the providing basic necessities for their citizens.
The most advanced societies on planet earth have not been able to satisfactorily deal with the problem of energy and alternative energy generation.
For now African governments should be left to solve the problem of providing basic necessities for their citizens.
My home town Uromi,Edo state Nigeria and all the surrounding Esan speaking towns have no clean water supply.
Now this is our problem

Anthony Okosun, USA

Recommended by 0 people


Added: Tuesday, 11 July, 2006, 11:20 GMT 12:20 UK

No. Africa is not doing enough to secure her future energy needs. If care is not taken, Africa might be turning to the West for her energy needs. Africa will always wait till the last minute before trying to do something about alternative source of energy. Alternative source of energy will help to prevent over reliance on oil. The future begins today. It is time for African countries to step effort at seeking alternative source of energy and also, saving for the future.

Omorodion Osula, Boston, USA

Recommended by 0 people