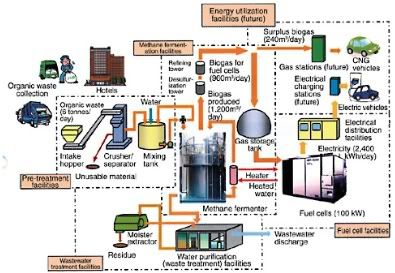 The 'hydrogen economy' that was
hyped
so much a few years ago, is not coming off the ground. This is due to several factors, one of them being the problematic production, storage and distribution of hydrogen gas. The paradox of the hydrogen paradigm is that the fuel cells that form a main component of it, are highly efficient, whereas, on the contrary, the production of hydrogen itself is highly inefficient. These two counteracting forces paralyse the development of the industry.
But a new development may change that. The
Institute für Keramische Technologien und Systeme
(IKTS) at Europe's top science & tech research body, the Fraunhofer Institute, has developed high temperature ceramic fuel cells that can operate on biogas. Earlier, we reported about a European company's
direct ethanol fuel cells
which hold great promise as they form the missing link between the biofuels industry and the fuel cell industry. Now Frauenhofer strengthens that connection.
Biogas can be locally produced from all kinds of biomass waste in a fairly straightforward way. The technology is
widespread
and
simple
, the biomass resource base is very large, and biogas systems are highly scaleable. Moreover, the gas can be fed to the existing natural gas infrastructure for distribution. All this makes biogas a much better candidate than hydrogen when it comes to using fuel cells.
Alexander Michaelis, director the IKTS in Dresden predicts that "ceramic high-temperature fuel cells will soon be a mass market." They are ideal as mobile power generators for motor homes, boats, trucks or cars, as well as in stationary applications for generating electricity, heating and cooling. By developing cost-effective, long-lasting stacks, the heart of a high-temperature fuel cell, IKTS researchers have now created conditions for commercial applications. Stacks are made up of thin ceramic plates on the surface of which fuels are converted directly into electrical power through an electrochemical process. Compared with the polymers used in low-temperature fuel cells, these ceramic cells have one distinct advantage: apart from pure hydrogen, they can also generate power from methane, gasoline, diesel, natural gas or biogas:
ethanol :: biodiesel :: biobutanol :: biomass :: bioenergy :: biofuels :: energy :: sustainability :: Africa ::

The process is fairly simple from an engineering viewpoint and therefore cost-effective. Efficiency of more than 90 percent can be achieved as part of a combined heat/cooling and power system – outperforming alternative technologies.

However, the stacks inside the fuel cell need to withstand major stresses with operating temperatures reaching up to 1 000 degrees Celsius. In effect, a high reducing atmosphere is created on the combustion gas side of the ceramic cells as a counterpoint to the high oxidizing atmosphere on the air side. Developing materials that can constantly withstand these kinds of aggressive conditions is a challenge for seasoned materials researchers. Together with industry partners H.C. Starck GmbH, a subsidiary of Bayer AG, and Webasto AG, a team at the IKTS is developing composite materials made out of metal, ceramics and glass. These materials are ideal for building low-cost, robust stacks – a service life of over 5,000 hours has already been achieved. The new stack design is due to go into series production shortly.

Prediction Made that High Temperature Ceramic Fuel Cells will become Mobile Power Generators - Azom.

The Fraunhofer IKTS, Dresden.