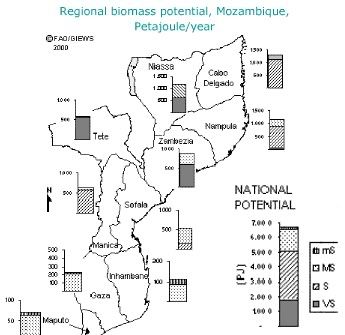 Here at the BioPact we maintain that the EU should urgently develop a partnership with Africa's future 'Biofuel Superpowers' to create a win-win situation, whereby African developing nations with a huge bioenergy production potential get the funds, knowledge and technologies needed to exploit this potential, while exporting biofuels to the EU - in a mutually beneficial relationship. To achieve this goal, there is the
European Union Energy Initiative for Poverty Eradication and Sustainable Development
, but bilateral projects and investments are obviously welcome as well.
Some are sharing our vision. Amongst them, Sweden, which announced that it is working with the Mozambican authorities on supplying the local market with biofuels, according to Energy Minister Salvador Namburete, cited in Friday's issue of the Notícias, maintained by the
Agencia de Informacao de Mocambique
.
Mozambique will feature in our series about
Biofuels Superpowers
, because the country has vast and underused agro-ecological potential for the development of a bioenergy industry. Together with Sweden, the country is looking at the possibility of producing ethanol even though Namburete did not say what raw material would be used. He did project that
there was enough potential to supply the entire Mozambican market and export a surplus to Sweden.
We have already pointed to this phenomenon as "
energy leapfrogging
", and Mozambique is gladly jumping.
Biofuels would reduce Mozambique's fuel import bill considerably. In the long-term, the country can become entirely oil-independent. Currently, Mozambique's fuel imports cost in excess of €133 million (US$ 168 mio) a year - a heavy burden on the poor developing nation. And that invoice could rise still further: speculators this week were able to push the price of oil up to 78 dollars a barrel, largely because of nervousness over the spreading conflict in the Middle East.
In addition to the Swedish interest in ethanol, the search for alternative fuels also involves several proposals for biodiesel. Thus in the Zambezia province, the company Madal has proposed to turn copra into biodiesel, taking advantage of the fact that Zambezia is home to the largest coconut plantation in the world. The Monapo Industrial Company in Nampula province intends to refine biodiesel from sunflower oil. But the most frequently mentioned source of biodiesel is the jatropha shrub, which President Armandoi Guebuza himself is urging peasant farmers to grow.
More information:
André Faaij,
Emerging International Biomass Markets and the Potential Implications for Rural Development,
Development and Climate Workshop: Rural development, the roles of food, water and biomass; opportunities and challenges. Copernicus Institute, November 2005. [*pdf], offers a case study of Mozambique's bioenergy production potential.
ethanol :: biodiesel :: biobutanol :: biomass :: bioenergy :: biofuels :: energy :: sustainability :: Africa ::