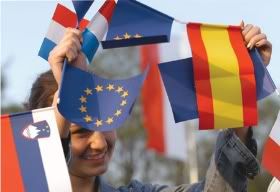 The European Commission has made public the results of its first round of citizens' consultation on its
2003 Biofuels Directive
, which aims to promote the use in transport of fuels made from biomass, as well as other renewable fuels. Not only European stake-holders are invited to participate, players from all over the world are welcome.
The Commission set out the broad lines for a review of the directive in its
Biomass Action Plan
and biofuels strategy. In preparing the progress report, the Commission's services wanted to know the views of public authorities, businesses, non-governmental organisations, citizens and other interested parties on the following questions:
Is the objective of promoting biofuels still valid?

The directive sets a reference value of 5.75% for the market share of biofuels in 2010. Will this share be achieved with existing policies and measures? If not, why not?

Looking towards 2010, does the EU system of targets for biofuels need to be adapted? If so, how?

Should a certification system be introduced to avoid using "poor performing" biofuels or give more support to "better performing" ones?

Looking towards 2015 and 2020, should further measures be adopted to promote biofuels?

A number of more technical issues
Thus the questions cover a wide range of topics. Some are primarily political, others focus on scientific, legal or economic aspects. If you have views on some questions and not others, do not hesitate to send an answer covering these questions. A second consultation on the Biomass Action Plan is set for a later date.
The first
consultation document
[*.pdf] gathered a wealth of views, critiques, comments and broad visions from a vast and interesting range of organisations. Several of the topics raised deal directly with issues of our concern: the sense of bioenergy trade with the South, the economics of international biofuels trade, the potential for biofuels production to relieve poverty in developing nations, etc...
Each of the organisation's contributions can be read separately,
here
. We want to present an exhaustive list, so that readers see how diverse the stakeholders are:
ethanol :: biodiesel :: biobutanol :: biomass :: bioenergy :: biofuels :: energy :: sustainability :: Africa ::
Member States and foreign governmental institutions:

Brazilian Government,

Netherlands Environmental Assessment Agency, Energistyrelsen, Landwirschaftskammer Österreichs, Deutsche Energie-Agentur, Umweltbundesamt, Natural England, UK Government, Dutch Government, Latvian Ministry of Economics, Ministry of Economy of the Slovak Republic, House of Lords' European Union Select Committee - Environment and Agriculture Sub-Committee



NGOs:

European Environmental Bureau (EEB), Birmingham Friends of the Earth, Danmarks Naturfredningsforening (Danish Society for Nature Conservation), Réseau Action Climat France, Institut Français des Huiles Végétales Pures, German society for nature conservation (NABU – BirdLife Germany), Scottish Natural Heritage, Blooming Futures, Technology for Life, Inforse, European Pure Plant Oil Association, NEN Energy Resources, Vegburner, European Landowners' Organization, Fachagentur Nachwachsende Rohstoffe e.V. (FNR), Stichting Natuur en Milieu, Deutsche Umwelthilfe (DUH), European Tribune, Sprecher Rettet den Regenwald e.V., European Federation for Transport and Environment (T&E), Biofuelwatch, European Environmental Citizens' Organisation for Standardisation (ECOS), WWF,

Industry / Private Sector:


Iogen,

D1 Oils,

Ford Motor Company,

Forest Products Biotechnology group at the University of British Columbia, Novozymes A/S, Department of, Economics Göteborg University, Europia, Institut Français du Pétrole (IFP), German Chemical Industry Association (VCI), Finnish oil company Neste oil Oyj, European Natural Gas Vehicle Association (ENGVA), Združenie výrobcov liehu a liehovín na Slovensku, Finnish Oil and Gas Federation, British Sugar, Bundesverband Güterkraftverkehr Logistik und Entsorgung (BGL), Danish Transport and Logistics Association (DTL), Ecomotion GmbH, Valenergol, Hydro, eBio, Cofalec (The Association of the European Yeast Manufacturers), Fediol, Apag, Renault, UEPA, AssoDistil, Aspec, North East Biofuels, Whyte and Mackay, Port of Rotterdam, Finnish Food and Drink Industries' Federation - Ethanol Producers' Association, AGPB - AGPM AGPB - AGPM in France, Universià degli Studi della Tuscia, EFOA, ADECA
ATC, Sundance, Coceral, Bio-power, BioAlcohol Fuel Foundation (BAFF), Verband der Automobilindustrie e.V. (VDA), Renewable Energy Association of the United Kingdom, CEEP, APPA, UNGDA, COPA-COGECA, SNPAA, Unilever, Elinoil - Hellenic Petroleum Company SA / Elin Biofuels SA, Tereos, National Farmers' Union of England and Wales, Union for promoting oil and protein plants (UFOP), Pôle de compétitivité « Industries & Agroressources », Daka, Waterman Sustainable Energy, CEPM, (Confédération Européenne des Producteurs de Maïs), European Biodiesel Board (EBB), Caobisco, Lyondell Chemical Company, The Society of Motor Manufacturers and Traders Limited, Anpromis, Ethanol Union, Toyota Motor Europe, Lantmännen Agroetanol AB, European Car Manufacturing Association (ACEA), Sener Grupo de Ingeniería, Altran, Regenatec, CER, Repsol YPF, The Environmental Industries Commission, Confederation of the food an drink industry of the EU (CIAA), International Margarine Association of the Countries of Europe (IMACE), Associations des Amidonniers et Féculiers (AAF), EARPA - European Automotive Research Partners Association, BEST-project (Bioethanol for Sustainable Transport), Rheinisch-Westfälisches Institut für Wirtschaftsforschung (RWI), LowCVP, Fédération Internationale de l'Automobile (FIA), AEBIOM

List of private citizens, see this page.


This pan-European and worldwide consultation round is certainly a way forward in the democratic decision making process that guides the EU's bioenergy and biofuels policies. If the Commission would be so kind to actually take this wide range of views into account, we would even be a step further...