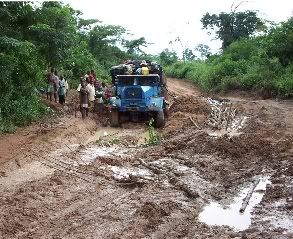 Even though we envision a green future where bottom-up approaches to development get priority, we understand that in several sectors a top-down strategy is required. Infrastructure is one such sector, and in Africa it is probably the single most important barrier to development.
The European Union, the world's largest donor of development aid, now proposes a €uro 5 billion (US$6 bn) package of aid for a
EU/Africa Infrastructure Partnership
to (re)build railroads, harbors and national and rural roads on the continent. The partnership is part of the
EU's Africa Strategy
, which foresees an annual €uro 10 billion of aid per year by 2010.
Inadequate infrastructure is at the root of many problems in Africa. It is obviously crucial for the development any economy because without roads, no agricultural produce ever gets to market and mobility of goods and people is hampered; without harbors and ports, no trade is possible; without railroads, neither fuel, nor goods nor people can be transported efficiently.
Moreover, there's a vicious circle at work: when infrastructure lacks, basic consumer goods (from food to fuel) become very expensive, and those already in poverty are forced to spend even more of their budgets on basic goods to survive. And the poorer these regions become, the less States are inclined to invest in them, meaning infrastructure gets put on the back bench even more.
Finally, lack of infrastructure is one of the strongest push factors in Africa's internal migration of rural masses to cities. These cities are not ready to accept this influx, which in turn brings a whole host of new problems (with vast slums becoming the norm in many African "mega-cities".) And when the rural populations leave the land, food production becomes the first victim, forcing African cities to import food from abroad.
EU Commissioner for Development, Louis Michel, has been the most active and serious commissioner when it comes to crafting a coherent African development policy. Finally someone dares to go back to basics. Because the policy accents on good governance, democracy, human rights, gender, and so on, which dominated the 1990s discourse on development weren't wrong, but they resulted in policy makers losing sight of the underlying, more important issues. Michel digs those back up.
The Commissioner also understands the potential of sub-Saharan Africa to become a major biofuels producer. And the infrastructure aid is partly aimed at unlocking this potential. As he
recently said
:
"Many developing countries are naturally well placed for the production of biofuel feedstocks, particularly those traditionally strong in sugar production. The expanding EU market for biofuels will provide them with new export possibilities. The EU will help them maximise this opportunity with support for knowledge transfer and development of their market potential."
The example of Brazil shows that without adequate infrastructure and logistical chains, in this case rail and river transport networks and internal harbors, biofuels could never be exploited in a feasible way. That is why we welcome the EU's partnership very much.
With more than 40 per cent of Africans having no access to safe water and less than 20 per cent having electricty, the EU/Africa Infrastructure Partnership will also give a cash boost to the development information technology infrastructure and water networks.
development :: biodiesel :: ethanol :: biomass :: bioenergy :: biofuels :: infrastructure :: sustainability :: Africa ::