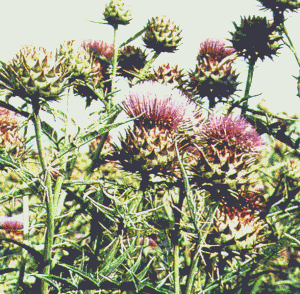 Here at the Biopact we most often refer to tropical countries and their large biomass production potential. More arid regions, such as the vast zone where the Sahara desert gives way to the Sahel, or the North African mediterranean get less attention from the media when it comes to their bioenergy potential.
Several research projects are underway though to study different energy crops suited for such arid regions. Amongst them, the
series of EU-funded projects
that analyse common cardoon (
Cynara cardunculus L.
), a close relative of the globe artichoke (
C. scopulus
).
Cardoon is a drought tolerant perennial plant that requires relatively small amounts of water - a prerequisite for its suitability in arid regions. Its high biomass productivity stands at around 20 to 30 tonnes of dry matter per hectare, with the programs aiming at doubling this yield through selecting the best cultivars (current yields make cardoon equally productive as more commonly known bioenergy crops such as switchgrass or elephant grass). The plant contains oil bearing seeds that can be directly cold-pressed to obtain oil suitable for biodiesel, whereas the bulk of the biomass can either be used as a solid biofuel for the production of electricity and heat through direct combustion, or as a feedstock for thermochemical conversion into liquid biofuels.
The following projects on cardoon's potential as a bioenergy crop can be found in the
BiomatNet database
- Europe's biomaterials research and development information portal. They fall under the project
"Global Process To Improve Cynara cardunculus Exploitation for Energy Applications"
:
ethanol :: biodiesel :: biobutanol :: biomass :: bioenergy :: biofuels :: energy :: sustainability :: Africa ::


1. Cynara cardunculus L. as New Crop for Marginal and Set-Aside Lands, with the objectives of studying the following issues:


* Dry biomass production in typical set-aside lands of 5 different countries of the south of Europe (France, Greece, Italy, Portugal and Spain) taking into account different culture conditions.
* Green forage and dry biomass harvesting tests.
* Soil-plant water relations study including the determination of the WUE (water use efficiency).
* Genotype collection from commercial cultivars and wild populations and estimation of their potential productivity.
* Green forage production during Autumn and Winter season and its influence on final biomass production. A specific study of ruminant nutrition will be carried out in order to evaluate the nutritive value of this forage. Yields on the order of 50 t/ha of green forage would be expected.
* Paper pulp production from branches and stalks after 3 different methods:

o Classical kraft procedure to be realized in Portugal.
o ASAM procedure to be realized in Germany.
o In-situ soda generation procedure from lime and sodium carbonate precursors to be realized in France.

* Biomass transformation yields into heat or electricity by means of IMW AFBC (Atmospheric Fluidized Bed Combustor) with information about the emission gases and volatile hydrocarbons. An optimization study of the pretreatments and fluidization capacity of this solid fuel will be included.


Considering the whole production-transformation as an integrated system its components impact on environment will be studied, mainly with regard to mineral nutrients, soil organic matter and carbon dioxide balance.
Finally, a feasibility study of the mentioned systems (production-transformation) will be done, and possible cost levels will be estimated for every product from Cyanara cardunculus biomass.

2. External Costs of the Biomass Fuel Cycle (ExternE), which aims to estimate the externalities of bio-electricity generation from agricultural energy crops in two Greek sites and two reference years by using, testing and further developing the existing methodology of the Joule Programmes.
The two project sites selected and described in detail are Site A: Orchomenos, Viotia, Central Greece; and Site B: Nea Kydonia, Chania, Crete.
A comparative analysis of five most promising energy plants has lead to the selection of fibre sorghum and Cynara cardunculus. The expected penetration, as well as the production, harvesting, and conversion systems of these two energy crops were quantitatively described for the two reference years (1995 and 2015).

The reference conversion technologies selected for both sites are advanced combustion and gasification, for reference years 1995 and 2015, respectively.

The following bioelectricity externalities were systematically assessed:


* Impacts of primary air pollutants to human health. Meteorological and technological data were used as inputs in an air dispersion model in order to predict the incremental air pollution due to the biomass conversion; based on the existing dose-response functions and by linking the results of the model with the local demographics, the impact on human health was quantified and economically valuated.
* Impacts from the upstream activities. Two such major activites were examined, i.e.,
o nitrogen leaching to ground water bodies, and
o soil erosion;
* the assessment of the above impacts was based on the methodology used by CEEETA, appropriately modified.
* Impacts on occupational health. Data collected from similar activities in Greece has made possible the estimation of the external cost of accidents, deaths and other injuries.
* Impacts from truck traffic. Although transportation of biomass has many impacts, the one assessed here, based on the available literature and data, was that of road damage due to biomass transport.

Other impacts were also considered, in an effort to complement qualitatively the existing methodological framework:

* effects on biodiversity, and
* effects from pesticide use.



Cardoon is currently being tested mainly in arid regions of Southern Europe, but since the plant naturally occurs in mediterranean Northern Africa it could become an important bioenergy crop, since the land base suitable for it is very large. It is too early to tell whether cardoon can be cultivated in the Sahel, but if it can, then this most difficult and poorest of regions could find a valuable new industry in it.