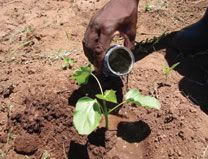 With the Middle East crisis sending oil through the roof, the prospect of actively using biofuels is becoming the reality of the day in South Africa. Some people are even beginning to imagine that the entire African continent might be the first to dethrone oil alltogether, and entirely switch to biodiesel, ethanol, biobutanol, biomass and biogas. Petroleum is becoming more a burden than a blessing, and if Africa wants to develop, it will need abundant energy that's cheaper than oil.
iAfrica's
The World At Six
features an interview with First National Bank's head of agriculture, Ernst Janovsky, and he enlightens us on the chance for Africa to bet on biofuels.
Just a few days of renewed tension in the Middle East, the oil prices climbed way over $75 a barrel and it was $78 first thing this morning. It has eased back slightly though, and the effect for the petrol price for local consumers looks a little bit bleak.
And as you have heard a couple of our guests, already suggesting that there is a risk that consistently rising petrol price will lead to increasing inflation. So where does that leave biofuels? Fuel produced by the agricultural sector, fuel that is renewable and fuel that can be grown. Can it help to provide materially for our petrol needs, I wonder. And we are joined by First National Bank's head of agriculture, Ernst Janovsky, talking to us from Johannesburg. Ernst a very good evening to you and welcome. Oil over $70 a barrel that has to be good news for biofuel?
The following is a transcript of the interview:
ethanol :: biodiesel :: biobutanol :: biomass :: bioenergy :: biofuels :: energy :: sustainability :: Africa ::

Ernst Janovsky:
Yes, of course it is good news for Biofuel. It gives you an opportunity that the market is actually moving closer to your breakeven points. So it is actually quite a nice incentive for the development of biofuel products in South Africa itself.

Chris Gibbons:
Every cloud has a silver lining. What does our biofuel look like? It is very young, isn't it?

Ernst Janovsky:
It is still in its infant stages, it is just starting off. Chris if you look at what has been happening, the first ethanol plant has just been developed now for the Bothaville area. There are one or two small biodiesel plants, which has already been created in the Bethal areas. So there is a little bit of movement, but it is still early days for that and the reason for it being that is the oil price is not actually coming to the market yet or the breakeven points have not yet been acknowledged.

Chris Gibbons:
Are you telling me that we need oil higher than $70 a barrel for this thing to be worthwhile?

Ernst Janovsky:
It is just on breakeven, or very close to breakeven. If you take a maize price of R1200 a ton currently and you say, about 2.5 tons of maize is needed for a thousand litres of ethanol, and then it basically works out at almost R4, which you put into your input price of the fuel, which a little bit higher than the current fuel price. If you work on two, it basically comes down to your current fuel price of R3, R3.20, R3.40 or thereabout and that just states that you can actually start bringing in biofuels currently into the market and it will start taking off. Yes.

Chris Gibbons:
What is needed from government to allow the biofuels industry to become operational?

Ernst Janovsky:
As I stated, because of the fuel price not being higher enough to come to the market of biofuels itself, especially the ethanol itself, you will find that from governments point of view, you will actually have to force the petroleum industry to actually take your ethanol out of the market, in other words, force ethanol into the system by saying you have got to need an inclusion of X percentage into your normal fossil fuels, to actually get the market to actually work.

Anything above $80 to $90 you will see that the market will actually start coming to the ethanol and say give me ethanol because it is becoming cheaper. At the current rate, it is still not cheap enough to include ethanol. But we are at that breaking point currently.

Chris Gibbons:
Two important considerations, it is renewable, because you can grow another crop next year and the year after that. I understand it is also cleaner?

Ernst Janovsky:
If you really take the carbon cycle, because that is where the cleanness comes in, every litre of fossil fuel you are burning, you are putting additional carbon dioxide into the air. If you actually start using renewable fuels, what happens is the plant actually takes the carbon out of the air, due to sunlight and photosynthesis and actually creates energy with it. And as soon as you burn it again, in terms of ethanol, you actually reduce that. So in principal what we are saying is that the carbon dioxide cycle, is the same amount of carbon dioxide that keeps on circulating.

Chris Gibbons:
I presume that the two affect a third important point effect and that is the relief of the mielie boere (farmer).

Ernst Janovsky:
Yes, that is where the biggest market opportunity lies and that is creating a new market for the maize industry, in the sense that you now have the off take agreements and new markets for it. And this is especially true, as South Africa is an export producer of maize, or a surplus producer of maize.

Chris Gibbons:
Very interesting indeed, I have to say that I hope oil does not get to $80 or $90 a barrel. But when it does, I have no doubt that we will be putting ethanol in.