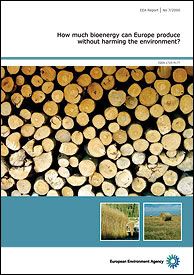 The long-awaited study about bioenergy and sustainability, by the
European Environment Agency
, concludes that the Union can achieve its renewable energy goals without harming the environment.
The report states that the EU can produce enough energy from waste biomass and agriculture to support renewable energy goals without putting pressure on biodiversity, on soil and on water resources. Biogas, biodiesel, ethanol and solid biomass are now seen as a crucial element of Europe's long term energy strategy and security.
The
study
projects that by 2010, the biomass from agriculture, forestry, and waste should equal 190 Mt of oil, enough to meet the EU's renewable energy targets. The energy in biomass is measured in 'million tonnes of oil equivalent' (Mtoe). By 2030, the EU expects to produce 295 Mtoe (5.9 million barrels per day), which will supply 15% of its energy needs. This switch to biomass also would reduce CO2 emissions by 400–600 million tonnes.
Waste will provide the most bioenergy in the short term, accounting for around 100 Mtoe (2 million barrels per day). But biomass from agriculture will eventually dominate the market, and by 2030 it will provide up to 142 Mtoe (2.85 million bpd).
We will be reading this major study carefully and report back in more detail, soon.
[Entry ends here.]
ethanol :: biodiesel :: biobutanol :: biomass :: bioenergy :: biofuels :: energy :: sustainability :: Africa ::