In a major development, two important French energy and scientific institutions normally associated with two grand energy lobbies and traditions - the
Commissariat for Nuclear Energy
(CEA) and the famous
Institut Français du Pétrol
(IFP) - are collaborating on an ambitious project that will bring second generation biofuels and biohydrogen based on the thermochemical conversion of lignocellulosic biomass. This comes after the biochemical "sugar route" - the production of fuels and biomaterials starting from plain sugars, or those contained in cellulosic biomass - has already had its series of investments, projects and planning rounds in France.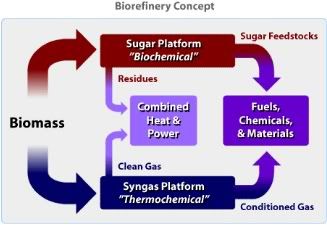 Whereas first generation biofuels in France (Europe) yield a maximum of one to two tonnes of liquid fuel per hectare (e.g. rapeseed biodiesel or corn ethanol), the green synthetic fuels that use wood, agroforestry and household residues promise to bring 4 tonnes of fuels, and a range of specialty biomaterials.
The CEA has been constructing a biomass-conversion plant at its site in Cadarache (where coincidentally the ITER fusion reactor will be built), aiming to increase the efficiency of bioconversion technologies. Already operational, the plant now produces experimental synthesis fuels based on biomass. After high-temperature gasification of biomass, the synthesis gas is liquefied via a traditional Fischer-Tropsch process. Currently this process has an efficiency of around 30%. Both institutions are now working on the creation of a fluidized bed reactor, that will increase the efficiency of the process to up to 40% and reduce the tar ratio that remains after extracting the gas. The resulting fuels cover a wide range of grades, from heavy diesel to light gasolines and with an important fraction of biohydrogen.
Project chronology:
2009: prototype of a unit for the conversion of biomass into bio-oil
2010: prototype of a fluidized bed reactor
2012-2017: prototype plant capable of producing between 0.15 and 0.30 million barrels of oil equivalent (per annum)
2015-2025: construction of full-scale biorefineries capable of producing between 7 and 15 million barrels of oil equivalent (per annum) by 2025.
It is estimated that the potential of this technology is such that it can deliver 30% of France's entire liquid fuel needs by 2025. France has a large woody biomass stock and sees the development of these second generation biofuels as a strategic path towards more energy security.
Source:
Le Mag
, and an introductory leaflet:
Biofuels of the Future. Our cars will run on wood.
[*.pdf].
[entry ends here.]