Exclusive story, from our own members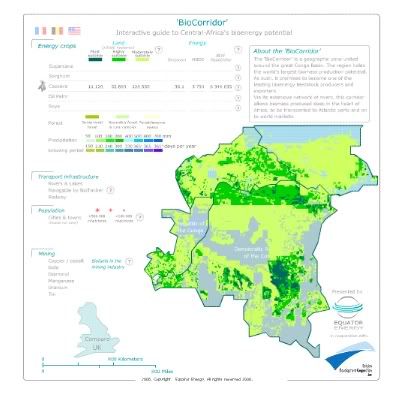 One of our members works as a researcher for a bioenergy consulting firm and he's currently involved in a mapping project called the Biofuels Atlas. We are grateful that he's willing to give us a sneak preview of his work. Since the planning tool is proprietary, we can only give a few screenshots.
The Biofuels Atlas uses a series of agronomic GIS and socio-economic databases on land use patterns, hydrology, climate, soils, growing seasons, crop productivities, demographic and economic trends, urbanisation, climate change and political risks, transport infrastructure and projected energy demand, to name the most important factors. Many of those are provided by the UN, the IEA and other big institutions, still others are academic databases whereas the rest are proprietary.
The result is a fascinating interactive tool that allows planners to visualise a country's bioenergy, biomass and biofuels production potential over time, using combinations of layers. The maps show the potential per energy crop, or for a combination of crops. More than 14 of the most interesting bioenergy crops will be covered (amongst them sugar cane, cassava, sorghum, sugar beet, palm oil, soya, maize, jatropha, eucalyptus, switchgrass, poplar, sunflower and coconut).
We can't wait to see the Biofuels Atlas coming online.
Have a look at some of the maps.
Biofuels Atlas, combination of socio-economic and climate layers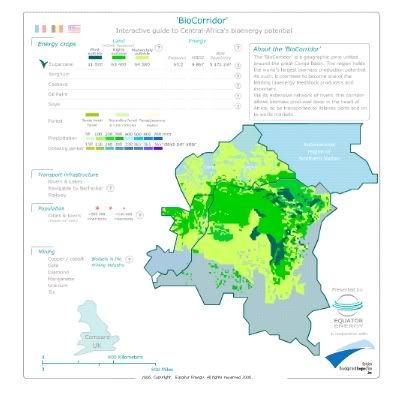 Biofuels Atlas, showing sugar cane land suitability layer for the DR Congo
Biofuels Atlas, showing several types of forest in the DR Congo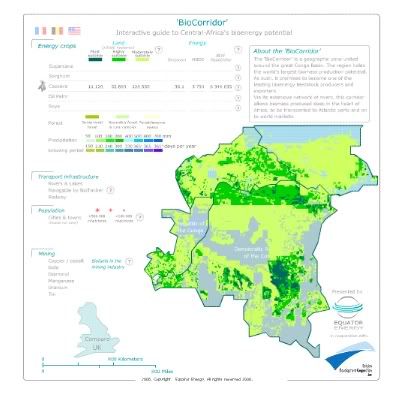 Biofuels Atlas, showing cassava land suitability layer for the DR Congo



As can be noted, cassava does not grow in rainforest zones, on the contrary, it prefers agro-ecological zones at the fringes and at lower and higher latitudes.

We already knew this was the case for cassava in Central-Africa, but to our surprise, the same is true for soya.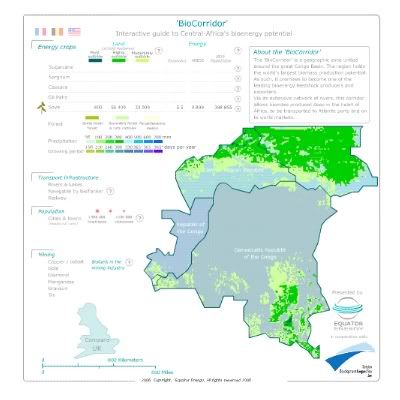 Biofuels Atlas, showing soya land suitability layer for the DR Congo



Soya does not grow there were rainforests thrive. The Biofuels Atlas promises to bring more nuance to the debate about the environmental effects of energy farming. This is exactly what's needed, since this debate is often troubled by a lack of scientific insight - for example, some environmentalists continuously refer to soya's destructive effects on rainforests, but then we see this map; in the case of the DRCongo, soya isn't even an important crop. Cassava and sorghum have much more potential (both crops do not eat away forests, on the contrary).


Sadly the pictures are too small to read the total energy potential of all these energy crops, but we have been assured that it is impressive. Anyway, we can't wait to use this interactive tool. It will allow us to get a better appreciation of where we're going with our project - and it will be an interesting guideline in the discussions about which crops hold the greatest potential over time, and which ones have what kind of effects on the ecology of the regions we're concerned with here at the BioPact.