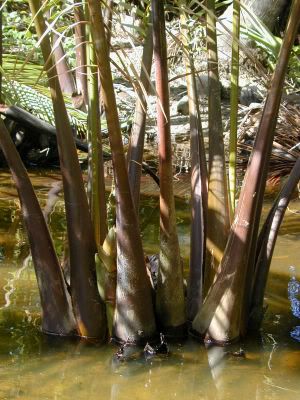 For any biofuels feedstock production project the single most important factor for success is the yield of the energy crop chosen. It is obviously crucial for it to be as high as possible. Some plants are winning the debate, hands down (sugar cane, oil palm, cassava). There is one underutilized and mysterious species of
tropical palm
though, which holds a lot of promise when it comes to ethanol production in the tropics and which is seldom or never mentioned in the literature. It is
Nypa Fruticans
, also known as attap chee, nipa or nipah palm or simply as the mangrove palm.
What's so special about this palm? First of all, it produces a vast amount of a sugar rich sap, that can be tapped and is traditionally used to brew alcohol. It's a perfect ethanol feedstock. How much do you ask? Well
estimates
go up to 20 tonnes of sugar per hectare (8 Mtonnes/acre), compare to sugar cane and sugar beet, which yield roughly half that amount. Since the sugar-rich sap is easily fermentable, up to 90 barrels or 14300 litres of ethanol can be obtained (1530 gallons/acre); compared with sugar cane, this is up to two times more (and compared with corn at 250 gallons/acre, it's roughly 6 times more). Impressive indeed.



The Nypa palm grows naturally in tropical mangrove forests and saltwater swamps, in the zone where sweet and salt water mix. There it is dominant and vast stretches of mangrove consist of the single species. It is very prolific in mangroves and coastal swamps of Papua New Guinea, Malaysia, Indonesia, the Philippines, Bangladesh, and has invaded African shores as well, most notably the Niger Delta (See: FAO: Aquatic Plant Resources of Nigeria).
Many of the palm's products are traditionally used by coastal communities: leaves for thatching, the fruits as a delicacy, and the sugary sap from the inflorescence to make wine and syrup. Nypa can be tapped 4 years after planting, and keeps yielding for 50 years.

So far there have been a few field trials to monocrop the palm, with some success. There's also an unconfirmed rumor that the Indonesian government is considering starting a huge plantation on Irian Jaya's southern swamps, where the palm originates. The project is aimed at producing ethanol feedstock.

Research about Nypa fruticans is very scarce, in fact so scarce that even the
International Centre for Underutilized Crops does not mention it. The European Tropical Rainforest Network and the FAO [search results] have quite a few sources on it, though, and the palm is mentioned often in the context of mangrove conservation and management literature. A basic plant profile can be found at the Ecoport database.

Given the huge potential yield, the ease of tapping the palm and the fact that it is dominant in many mangrove sub-systems, we at the BioPact think more research on this mysterious palm would be welcome.



[Note]
We are currently researching the literature on Nypa, and we'll report back with a more comprehensive article.

Yield estimates from the scarce literature: 3,000kg/year ([2] [25]) to 10,000kg/year (2,000 plants) [13] Gibbs cited by [4]; 3,800 to 4,500kg/year (2,500 plants, 700-750 sap producing) [42] [43]; Peninsular Malaysia: 20,300kg/year (500 plants with 2 stalks tapped per plant/340 days/year) Watson cited by [41]; Sumatra estate: 22,400kg/year as a conservative estimate (Johnston cited by [43]); Papua New Guinea: 28,000kg/year if 50% of palms flower yearly and mean tapping period of 100 days [48] - Sumatra estate: 38 workers/10ha plot: 30 on tapping/collecting, 5 on maintenance and preparation of stalks through kicking, etc., 2 on syrup transport and one overseer (Johnston cited by [43]).
See: Christophe Dalibard, Overall view on the tradition of tapping palm trees and prospects for animal production, Livestock Research for Rural Development, Volume 11, Number 1 1999.