Even though a Swiss bank and a commodity investment firm recently announced the launch of a
"biofuels index"
that will cover prices for a range of commodities used in the production of ethanol and biodiesel, we already have an instrument that more or less allows us to assess general market trends for those commodities.
We are talking about the Bursa Malaysia and its
Plantation Index
. Some 40 tropical plantation companies are listed on it and they have witnessed a boost on biodiesel (mainly from palm oil), reflected in a number of new plants coming online.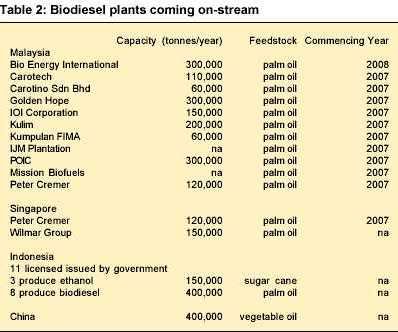 How did the Plantation Index perform on a year on year basis? And what is the outlook for the coming year?

The Bursa Malaysia Plantation Index jumped 37% from a year ago, beating the Composite Index.

Biodiesel development: demand for palm oil as feedstock for biodiesel gave strong support to Crude Palm Oil (CPO) prices, lifting them to a Ringitt 1,300/tonne level ($351 per ton, or $48 per barrel).

In a recent report by Malaysia Equity Research [*.pdf]the average CPO price is revised upwards for 2006 to RM 1,500 ($405 per ton or $55 per barrel) and RM 1,600 (US$432 per ton or $59 per barrel) for 2007.


High energy prices have led to higher CPO prices traded in expectation of greater demand for biofuel use. In seeking cheaper alternative to fossil fuel, biodiesel is the most viable alternative so far, and with strong support from the government and availability of technology to extract diesel from vegetables, most industry players have shown interest to invest in biodiesel plants. To date, there are more than 10 biodiesel plants to be built in Malaysia (Table 2), the latest company being Mission Biofuels from Australia, which recently launched an IPO on the Australia Stock Exchange to raise A$27m to build a biodiesel plant in Kuantan. The extra demand for the biodiesel is likely to support palm oil prices at above the RM1,300/tonne level. If crude oil prices remain at US$70 per barrel, palm oil is viable for biodiesel production even at RM1,700 per tonne level [see first graph].