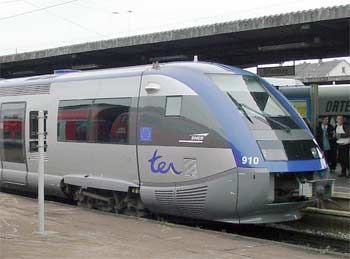 France is known for its trains that always arrive on time and for its well organised public transport network. The country's national rail service, SNCF, which makes this happen, now
announced
that it is about to test two types of biofuels: a mix of 30% rapeseed biodiesel with ordinary diesel (B30), and more spectacularly, two heavily used modern express trains using pure plant oil (not 'B100' but '100% végétale').
This is the first stage in the service's "zéro pétrole" objective, which consists of introducing B30 in 70% of its diesel locomotives, by 2010. To give an idea of how ambitious this target is, we can point out that the SNCF by itself would be using 20% of France's entire rapeseed oil production. (We would obviously prefer it to use tropical jatropha or palm biodiesel).


More info on Univers Nature (french).