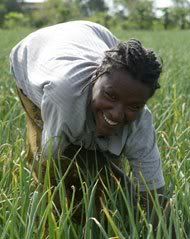 Here at the BioPact we have stated many times that helping developing countries to become biofuels and bioenergy producers may simultaneously help boost their overall agricultural output. A positive synergy must be developed between, on the one hand, agricultural outreach aimed at enhancing food security and better farming practises amongst African rural communities, and on the other hand, bioenergy outreach towards these same communities.
In this light, it is interesting to follow the developments at the big
"Africa Fertiliser Summit"
, where 500 experts are addressing ways to increase Africa's agricultural output. As some readers may know, fertilizer use in sub-Saharan Africa is almost non-existent. The region has a tremendous biomass production potential, but if we want to exploit it sustainably, it will be crucial for us to introduce the use of intensive agricultural techniques rather than traditional extensive (slash and burn) techniques.


African leaders, farmers and international agriculture experts have met here to discuss soil degradation and food shortages in the world's poorest continent.

The African Fertiliser Summit, which began here with a two-day technical session, was being attended by some 500 delegates from across the world, including over a dozen donor agencies as well as ministers, farmers and farmers' organisations.

The theme of the summit, which runs to June 13, is "Nourish the soil, feed the continent".

In his opening remarks, Nigerian Agriculture Minister Adamu Bello urged participants to evolve strategies that would boost food production in Africa, where some 200 million people are affected by food shortages.

"Africa is lagging behind other continents in agricultural production ... and has the largest level of malnutrition in the world," he said Friday.

Rosebud Kurwijila of the African Union Commission said the aim of the conference was to "address the African fertiliser crisis and to build consensus ... to make fertiliser affordable in Africa".

"Africa needs to address this fertiliser crisis in all its ramifications and in a holistic manner," she added.

Garry Toenniessen of the American-based Rockefeller Foundation said African farmers had "great need" for fertiliser which could help reverse soil degradation.

"This summit is just a beginning. The real impact will be in implementation," he said.

The summit, an initiative of the AU, is sponsored by more than a dozen international organisations and donor agencies, including the International Fund for Agricultural Development,
World Bank, the UN Food and Agriculture Organisation and the Rockefeller Foundation.

It aims to increase awareness of the role fertiliser can play in stimulating sustainable productivity growth in African agriculture and to discuss fertiliser use by small-scale African farmers.

In a video-taped speech, former US president Jimmy Carter expressed regret that "although Africa has some of the highest fertility rates in the world, per capita food production has dropped".

"We need to do more. While African nations work to slow population growth, the agricultural sector must increase its productivity quickly, with an emphasis on biotechnology and soil fertility," he said.

Carter warned that "if soil erosion and nutrient loss continue at the current rate, crop yields in Africa will decline by as much as 30 percent by 2020".

"Meanwhile, Africa's population will increase from today's 750 million to 1.1 billion people," he said.

"Without progress in incresaing soil fertility, hunger will be a constant companion of Africa and a potential cause of conflict."

Nobel peace prize laureate Norman Borlaug, considered the father of the 'green revolution' in agriculture, challenged African leaders to copy Asia by adopting biotechnology to boost agricultural production.

In a provocative speech which drew a standing ovation, the 92-year-old expert in wheat improvement said consumption of fertiliser nutrients in African countries was very low compared to Asia and Europe.

"Africa has the potental to irrigate 20 percent of its arable land but only four percent is currently irrigated," he said.

He said that the "political risks" that Asian leaders took to increase agricultural production were lacking in African leaders.

"Do we have two or three African leaders that can make the change in policy by adopting the available technological and scientific approach?" he asked.

"You cannot build peace on empty stomachs and misery," he concluded.

AFP.