Quicknote: bioenergy economics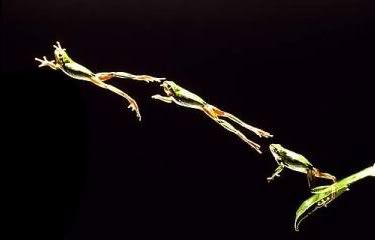 The advantage of developing countries with small energy footprints and a lack of fossil fuel infrastructures: they can rapidly implement a radical shift to bioenergy.
Jeune-Afrique
reports that one bio-ethanol facility being built in Zambia will produce 20 million litres of the fuel from sugar cane, which comes down to an impressive 15% of the country's entire liquid fuel needs. To compare: the EU set itself a target of increasing the percentage of biofuels in the fuel portfolio to 2% by 2005 and to 5.75% in 2010. And the EU memberstates are falling short of this target.
In short, developing countries do what industralized nations can only dream of. This is where the concept of "energy leapfrogging" comes in.
Our friends at Worldchanging
describe it
as follows:

Leapfrogging is not a new concept. One of the first academic articulations of the idea was in Alexander Gerschenkron's 1962 essay, Economic Backwardness in Historical Perspective.

"Leapfrogging" is the notion that areas which have poorly-developed technology or economic bases can move themselves forward rapidly through the adoption of modern systems without going through intermediary steps. We see this happening all around us: you don't need a 20th century industrial base to build a 21st century bio/nano/information economy.

Rather than following the already-developed nations in the same course of "progress," leapfrogging means that developing regions can experiment with emerging tools, models and ideas for building their societies.
For developing nations, the bioenergy future is leapfrog terrain
par excellence
. It is in their interest to skip the build-up of an old world petro-infrastructure and fossile fuel based energy complex. Instead, they can now radically choose to implement another system, based on localised and decentralised green energy production. They are not burdened by old energy infrastructures and the weight of vested economico-political interests. They can jump rightaway, towards a bright green future.