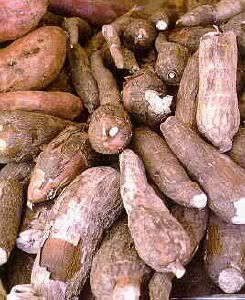 Here at the BioPact we've happily reported many times (
here
,
here
and
here
) about cassava's great potential as an ethanol crop. We've also mentioned China's current mania for biofuels. Combine the two, and you have a BioPact - but then one between China's own poor farmers and the fuel guzzling urbanites of the Red Giant.
The advantages of cassavas? They grow on poor soils, survive on limited water, are easily harvestable, and yield impressive amounts of easily fermentable starch. More importantly (and to counter some environmentalists' objections against biofuels):
cassava hates rainforest ecologies
, cassava prefers agro-ecological zones far away from tropical rainforests, so
you don't have to cut a single tropical tree to grow it
.
Reuters
: China, trying to cut dependence on imported oil, will use cassava-based ethanol fuel for cars in the southern region Guangxi in 2007, state media said on Friday.
The region will build ethanol plants with a combined annual capacity of 1.0 million tonnes to deal with a fuel shortage, Xinhua news agency quoted Pan Wenfeng, an official with the Guangxi development and reform commission, as saying.



Guangxi is China's top cassava growing region. In April an official from its Starch Association told Reuters the regional government was studying the feasibility of such plants.

All Guangxi fuel stations would be able to supply ethanol fuel made from cassava, a root vegetable also known as tapioca, by the second half of next year, Xinhua quoted the official as saying.

The ethanol plants would be added to existing alcohol distilleries, it said.

China is the world's third-largest ethanol producer, after the United States and Brazil. It has four government-sponsored ethanol plants with a combined annual capacity of 1.02 million tonnes. They use corn or wheat as their raw material.

But worried over food security, Beijing said it would use non-grain raw materials for fuel ethanol as part of its effort to cut dependence on imported oil. China imported 127 million tonnes of crude oil in 2005.

Guangxi, accounting more than 60 percent of China's cassava output, produced 8 million tonnes annually, Xinhua said. The region would encourage cassava planting to guarantee supplies.

Sen Yang, a professor from China Agricultural University, said in April that cassava alone could supply as much as 4 million tonnes of fuel ethanol in China.

Thailand, the world's top cassava producer, already converts some of the vegetable into fuel ethanol.