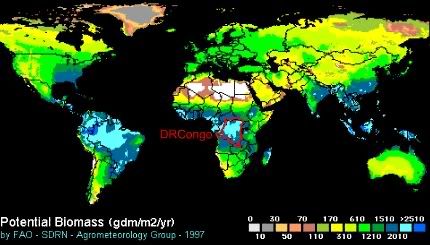 This is the first in our series focusing on the biofuel super powers of the future. Bioenergy and biofuels promise to change the geopolitics of energy in the 21st century. Because of their geographic location, land resource base, demographic make-up or climate, a select group of countries will soon be able to claim "Green OPEC" membership status.
Brazil is obviously the first country that comes to mind. And indeed, in a recent interview, president Lula da Silva in no uncertain terms
already used the word
"super power" in this precise context.
But before we analyse the obvious case of Brazil, we focus on a less well-known country with a similarly impressive bioenergy potential: the Democratic Republic of the Congo.


According to the experts at the IEA Bioenergy Task 40, Central-Africa has the world's largest biomass production potential. Task 40 created an impressive series of projections to assess the long term bioenergy production potential in different regions.
Under the most optimistic scenario, Central-Africa would be able to produce around 450 Exajoules of bioenergy per year. Consider that the world currently consumes 430 Exajoules of energy (that is energy from all sources: nuclear, oil, gas, coal, and renewables). In short, Central-Africa's potential is huge. In the study, Latin America comes in second, with a capacity of around 350 Exajoules.

[more soon]