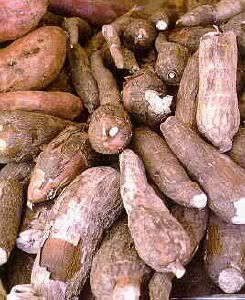 As we have
written before
, cassava (better known as "manioc" in the lusophone and francophone world) is a very interesting energy crop, which thrives in undemanding, poor soils, and which grows explicitly outside of rainforest areas (some biofuel critics use the rainforest argument ad nauseam, without looking at the many alternatives.
In Nigeria, cassava is the cheapest, most abundant staple food. It's the poor man's food so to speak. Millions of farmers grow it, and a major growers association has now announced a partnership to produce cassava ethanol.
It seems like President Obasanjo's personal cassava biofuel initiative (
earlier post
) is finally being taken to heart.


The Cassava Growers Association of Nigeria, has entered into collaboration with the Nigeria National Petroleum Corporation [NNPC], towards the production of 1 billion litres of Ethanol annually from cassava tubers for processing of crude oil.

Already, the NNPC said it needed about 3million litres of Ethanol per day, which would constitute 10percent of the petroleum products to be consumed locally.

Addressing newsmen in Osogbo yesterday, the National President of the Association, Chief Moses Ayinmodu stated that the association is currently discussing with some foreign firms for the manufacture of mini-machines for the production of ethanol in the country.

According to him, an American company, had already established an ethanol plant in Akwa-Ibom State adding that others are still coming as soon as all the necessary discussions on the supply of the machines are completed with the association.

He stated that with the successful execution of the project, the production of ethanol in commercial quantity would not only save the country from huge foreign exchange it would also earn the country a remarkable foreign exchange.

While commending President Olusegun Obasanjo for setting up a Presidential Initiative on cassava production, processing and export a few years ago, Chief Ayinmodu stated that the directives that all flour mills in the country from June this year should include 10 percent cassava flour in their products was yielding favourable results.

"Presently, the association is targeting an increase in cassava production by its members by about 10 million tons within the next two years primarily for industrial use and export so that the present production level of about 42 million tons can be released mainly for food to maintain food security," Chief Ayinmodu stressed.

Earlier, the Osun State Chairman of the Association, Dr. David Ogunsade commended Governor Olagunsoye Oyinlola for the release of loans to cassava growers in the state.

His words, "Prince Olagunsoye Oyinlola has given support and encouragement to our association in form of soft loans made available to us in addition to the supply of tractors to members of the association at cheaper rates."

Gbenga Olarinoye Osogbo, Vanguard.